Cvartet Fortissimi & Band
Cvartetul Fortissimi vă oferă muzică de calitate pentru orice tip de evenimente. Pentru mai multe informații, nu ezitați să ne contactați.
Cvartetul Fortissimi este un unul dintre cele mai bine cotate cvartete tinere din România, aflat într-o continuă ascensiune, fiind format din muzicieni profesioniști, membrii ai Filarmonicii și Operei din Brașov.
Cei patru membri ai cvartetului s-au întâlnit într-o armonie excepțională în cadrul festivalurilor muzicale din Brașov, ca mai apoi să lege conversații și într-un final o prietenie frumoasă. Și cum fără sunet nu e nimic desăvârșit, au îmbinat această prietenie într-o muzică de ambianță sub un singur nume: Fortissimi.
Dăruirea lor, năzuința și respectul față de ceea ce fac le-au deschis orizontul spre o mare cunoaștere, astfel au prezentat cu aplauze și laude muzica pe care o dăruiesc tuturor și care pornește întâi și întâi din suflet apoi, pleacă spre instrumente, se lasa petrecuta în ore de studiu și într-un final răsplata, prin zambetul afișat pe fața celor care îi ascultă cu drag și apreciază ceea ce fac.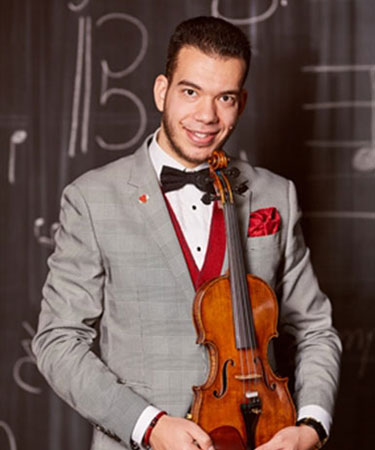 Bogdan Alexandru Costache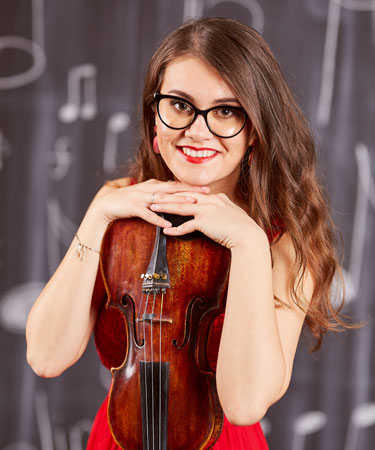 Catalina Maria Calin
Raluca Daniela Budeanu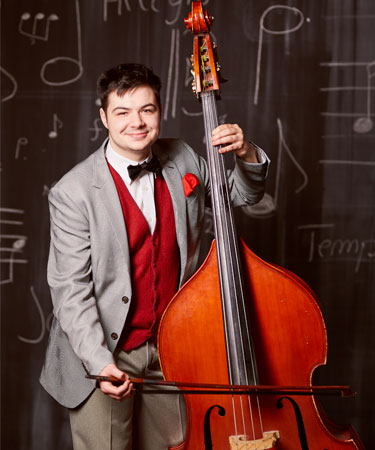 Adrian Pintea
Cand vine vorba de evenimente, ambianta muzicala oferita de interpretarea live a unui repertoriu atent selectat, interpretat de un cvartet de coarde, poate aduce un plus de noblete nuntii, garantand succesul acesteia. Prezenta artistica deosebita, profesionalismul, eleganta si energia pozitiva a interpretilor Cvartetului Fortissimi, reusesc sa dea un plus de vitalitate nuntii, iar diversitatea repertoriului, de la muzica clasica, muzica de film, caffe-concert, folclor, pop-rock, contribuie la destinderea atmosferei si la conturarea specificului intim al evenimentului.
Cununia religioasa in aer liber
Momentul cel mai important din ziua nuntii este cununia religioasa a celor doi miri. Muzica clasica este, cu siguranta, cea mai potrivita pentru intampinarea invitatilor, dar și pentru conducerea miresei spre altar.
Piese muzicale precum: "Here comes the Bride", celebrul "Canon" de Pachelbel sau "Wedding March", sunt doar cateva din renumitele lucrari muzicale alese de miri, care intregesc atmosfera incarcata de emotie de la cununia religioasa.
Chiar daca ati optat ca invitatii sa fie primiti in sala pe muzica cvartetului de coarde, sosirea mirilor poate fi spectaculoasa, prin alegerea unei piese deosebite, aproape de sufletul celor doi.
Recomandam pentru acest moment o piesa dinamica menita sa rupa monotonia si sa atraga atentia nuntasilor asupra fericitul cuplu.
Desi dansatorii profesionisti sustin ca este mult mai dificil sa iti sincronizezi miscarile cu acordurile live, o astfel de experienta merita tot efortul. Cei care doresc sa ofere si mai mult farmec primului dans impreuna, pot opta pentru aceasta varianta.
Inca de la primele acorduri, totul se transforma: mirii devin dansatori profesionisti, ringul de dans, scena, cvartetul de coarde se transforma intr-o adevarata orchestra, iar invitatii, martorii unui moment magic.
Celor care opteaza pentru aceasta varianta le recomandam sa faca macar o proba impreuna cu cvartetul de coarde live, inainte de nunta, pentru o sincronizare perfecta.
Ceremonia religioasa in biserica
Pentru ceremonia religioasa recomandam urmatoarele momente muzicale: marsul nuptial la intrarea mirilor in biserica, o piesa religioasa la incheierea liturghiei si/ sau muzica festiva de ocazie la iesirea din biserica.
Intampinarea in sala de catre Cvartetul Fortissimi, poate fi surpriza pe care mirii o pot oferi invitatilor, captand atentia si zambetele acestora, inca de la inceputul nuntii.
Pentru acest moment, repertoriul ales poate fi unul lent, astfel incat nuntasii sa fie introdusi treptat in atmosfera petrecerii ce urmeaza sa inceapa, dar sa le permita totodata sa se familiarizeze cu sala, sa admire decoratiunile alese cu grija de catre proaspata familie, sa schimbe impresii cu ceilalti invitati si sa se bucure de moment, in asteptarea mirilor.
Recomandam pentru acest moment piese celebre de muzica clasica, valsuri vieneze, tango-uri, slagare internationale, muzica de film sau jazz melodic.
Cvartetul Fortissimi poate fi cea mai inspirata alegere și în timpul mesei. Volumul muzicii pe durata servirii felurilor de mancare este, si el, demn de luat in considerare. Fiind un moment in care oamenii mananca, apoi socializeaza, ar fi de dorit ca fundalul muzical sa fie unul discret si placut.
Standard & Latino Show by Cvartet Fortissimi & Pro Dance
Shostakovich - The second waltz
Cvartet Fortissimi - Traditional Romanian Mix
Despacito - Luis Fonsi ft. Daddy Yankee
Ne-am dorit o nunta elegantă, cu clasă si muzică de calitate, Cvartetul Fortissimi a fost cu siguranță alegerea perfectă pentru cea mai frumoasă zi din viața noastră. Cvartetul mi-a fost recomandat cu incredere, așadar eram siguri ca acesta va putea transpune ideile/visurile/conceptul nunții in acorduri muzicale, așadar nu pot decât sa ii recomand cu toata căldura mai departe! Cvartetul Fortissimi a dovedit profesionalism, flexibilitate,punctualitate, talent. Oameni de excepție ce iubesc ceea ce fac! Mulțumim!
Vă mulțumim pentru că, timp de o oră și jumătate, ați oferit eleganță nunții noastre și ne-ați încântat sufletele cu muzica voastră! Ați fost cu siguranță o alegere bună, vă recomandăm din tot sufletul pentru seriozitate și disponibilitate și pentru modul minunat în care cântați. Primirea invitaților și servirea aperitivului în compania voastră a fost un real succes și nu putem decât să ne bucurăm că v-am cunoscut și că ați contribuit la fericirea noastră.
Cvartetul Fortissimi confera mai multa eleganta evenimentului tau. Felicitari pentru modul in care dati eleganta si frumusete evenimentelor importante din viata noastra! Sunteti cea mai buna alegere!! Multumim!
Repertoriul este unul vast, cuprinzând mai multe genuri muzicale, de la muzica clasică la muzica de film, de la operă la valsul vienez, de la tango la cafe concert sau muzică tradițională la jazz, etc. Fortisimi se adresează unei game variate de evenimente. Muzica reprezinta un element extrem de important in cadrul evenimentelor deosebite din viata fiecaruia, fapt pentru care aceasta trebuie aleasa cu grija. O muzica buna poate scoate orice eveniment din anonimat, iar pentru asta Fortissimi va ies in cale !
Canon in D – Johann Pachelbel
Adagio in G minor – Tomaso Albinoni
Ave Maria – Franz Schubert
Weeding March – Felix Mendelsshon-Bartholdy
Air from Suite Nr.3 – Johann Sebastian Bach
Badinerie – Johann Sebastian Bach
Water Music – George Friedrich Handel
Rondeau – Francois Couperin
Adagio – Arcangelo Corelli
La Rejouissance – George Friedrich Handel
Largo from Winter – Antonio Vivaldi
Eine Kleine Nachtmusik – Wolfgang Amadeus Mozart
Turkish March – Wolfgang Amadeus Mozart
Trumpet Voluntary – Jeremiah Clarke
March in D Major – George Friedrich Handel
Menuetto from Serenade Nr.1 – Johannes Brahms
Jesu, Joy of Man's Desiring – Johann Sebastian Bach
Lacrimosa, from Requiem – Wolfgang Amadeus Mozart
Spring from "Four Seasons" – Antonio Vivaldi
March from Flavius – George Friedrich Handel
Minuet & Trio – Ludwig van Beethoven
Rondeau from The Fairy Queen – Henry Purcell
Air from Abdelazer – Henry Purcell
Variations on Early One Morning – Sheila Nelson
Allegro in G – Joseph Haydn
Menuetto – Johann Sebastian Bach
Serenade – Franz Schubert
Prelude from Te Deum – Marc-Antoine Charpentier
Baroque Suite – Henry Purcell
Volksliedchen – Karel Komzak
Humoresque – Antonin Dvorak
Gavotte – Jean Baptiste Lully
Rondeau – Jean Francois Dandrieu
Pastorale – Arcangelo Corelli
Panis Angelicus – Cesar Franck
Andante Grazioso – Wolfgang Amadeus Mozart
La Paix – George Friedrich Handel
Largo – George Friedrich Handel
Ave Verum Corpus – Wolfgang Amadeus Mozart
Sarabande and Variations – George Friedrich Handel
Quartet in D Major – Joseph Haydn
Giga in D minor – Arcangelo Corelli
Rondeau – Jean-Joseph Mouret
Menuetto – Franz Joseph Haydn
Sleepers Awake ! – Johann Sebastian Bach
Anna's Minuet – Johann Sebastian Bach
Gigue – Andre Gretry
Traumerei – Robert Schumann
Concerto Grosso Per la Notte di Natale
Divertimento in D Major – Wolfgang Amadeus Mozart
Gopak – Modest Mousorgsky
Salut d'Amour – Edward Elgar
Chanson de Matin – Edward Elgar
Morning from Peer Gynt Suite – Edward Grieg
The Glasgow and Edinburgh hornpipe
Divertimento in F Major – Wolfgang Amadeus Mozart
Nocturne – Frederic Chopin
Canzon Sesta – Francesco Rovigo
Le Petit Negre – Claude Debussy
March from The Nutcraker – Piotr Ilici Ceaikovski
Largo from The New World symphony – Antonin Dvorak
The young price and pricess from Scheherazade – Nikolai Rimsky – Korsakov
The Girl with the Flaxen Hair – Claude Debussy
Dance of the Sugar Plum Fairy from The Nutcraker – Piotr Ilici Ceaikovski
Promenade from Pictures at an Exhibition – Modest Mussorgsky
Polovtsian dances from Pringe Igor – Aleksander Borodin
Juin from Barcarolle – Piotr Ilici Ceaikovski
Barcarolle – Jacques Offenbach
Fur Elise – Ludwig van Beethoven
Hungarian Dance Nr.1 – Johannes Brahms
The Swan – Camille Saint-Saens
Intermezzo from Cavaleria Rusticana – Pietro Mascagni
O Sole Mio – Eduardo di Capua
Nessun Dorma! Turandot – Giacomo Puccini
O Mio Babbino Caro Gianni Schicchi – Giacomo Puccini
Queen of the Night aria Magic Flute – Wolfgang Amadeus Mozart
Flower Duet Madame Butterfly – Giacomo Puccini
Habanera Carmen – Georges Bizet
Noi Siamo Zingarelle La Traviata – Giuseppe Verdi
Polka Silvia – Emerich Kalman
Csardas & Vals from Silvia – Emerich Kalman
Va, pensiero from Nabucco – Giuseppe Verdi
Entr'acte to Act 3 of Carmen – Georges Bizet
La Traviata Preludiu to Act I – Giuseppe Verdi
Im tete-a-tete Die Fledermaus – Johann Strauss
Glucklich Ist,wer vergisst Die Fledermaus – Johann Strauss
Mein Her Marquis "Die Fledermaus" – Johann Strauss
Humming Chorus Madame Butterfly – Giacomo Puccini
Entr'acte to Act I Carmen – Georges Bizet
Brindisi La Traviata – Giuseppe Verdi
Waltz Nr.2 – Dimitri Shostakovich
The Blue Danube – Johann Strauss
Danube Waves – Iosif Ivanovici
Augustan Club Waltz – Scott Joplin
Waltz from Sleeping Beauty- Pyotr Ilyich Tchaikovsky
Waltz Suite from Die Fledermaus – Johann Strauss II
La Chanson de Lara – Doctor Zhivago
Bethena – Scott Joplin
Liebeslied – Fritz Kreisler
Liebesfreud – Fritz Kreisler
The Skaters' Waltz – Emile Waldteufel
Waltz – Johann Strauss
The Waltzing Cat – Leroy Anderson
Waltz 1997 – Lev Zhurbin
Le Petite Valse – Joe Heyne
Waltz for The Moon Final Fantasy VIII – Nabuo Uematsu
Valse from Die Leberman – Adler Grunfeld
Unter Donner Blitz, Polka-schnell – Johann Strauss II
Plink, Plank, Plunk – Leroy Anderson
Feuerfest Polka – Josef Strauss
Chineser Galop – Johann Strauss
Persicher March – Johann Strauss II
Seufzer Galopp – Johann Strauss
Polka Pizzicato – Johann Strauss
Britta Polka – Hans Christian Lumbye
Sangerlust Polka – Johann Strauss II
Vergnugungszug – Johann Strauss II
Paragon Rag – Scott Joplin
Peacherine Rag – Scott Joplin
Country Club – Scott Joplin
Caliope Rag – James Scott
The Favorite – Scott Joplin
Cleopa – Scott Joplin
Blue Grass Ball – Bruce Chase
The Entertainer – Scott Joplin
Dob's Rag – Scott Joplin
Policy King – Charles.Brown
Joplin Suite – Scott Joplin
Petersburg Sleigh Ride – Richard Eilenberg
The string quartet rag – Louis Jendras
Elite Syncopations – Scott Joplin
The Strenunous Life – Scott Joplin
The Wedding of the Painted Doll – Nacio Herb Brown
Bohemia Rag – Josepf Lamb
The Easy Winners – Scott Joplin
Maple Leaf Rag – Scott Joplin
As Time Goes By Casablanca – Herman Hupfeld
Love Theme from The Godfather – Nino Rota
The Inspector Clouseau Theme Pink Panther – Henry Mancini
Theme from Braveheart – James Horner
Eyes on Me Final Fantasy VIII – Nabuo Uematsu
Theme from Love Story
The Pink Panther Theme – Henry Mancini
Tidus and Yuna's Sky Theme Final Fantasy X – Nabuo Uematsu
Theme from Black Orpheus
Autumn Leaves – Joseph Kosma
Baby Elephant Walk Hatori – Henry Mancini
Love theme from Romeo and Juliet
Bethany Titanic – Lowell Mason
Le Petite Coquette The Little Flirt
Sunrise,Sunset Fidle on the Roof
Theme from Ice Castles – Marvin Hamlisch
Charade – Henry Mancini
Fragments of Memories – Nabuo Uematsu
All I Ask of You The Phantom of the Opera – Andrew Lloyd Webber
Yesterday – The Beatles
Hey Jude – The Beatles
Eleanor Rigby – The Beatles
A Hard Day's Night – The Beatles
Day Tripper – The Beatles
Yellow Submarine – The Beatles
When I'am sixty-four – The Beatles
Back in U.R.S.S. – The Beatles
Get Back – The Beatles
Michelle – The Beatles
Besame Mucho – Consuelo Velasquez
How deep is your love – Bee Gees
One moment in time – Whitney Houston
Sway – Michael Buble
La vie rose – Edith Piaf
My hearth will go on – Celine Dion
Unchained melody – Righteous Brothers
Time to say goodbye – Andrea Boccelli
Over the Rainbow – Harold Arlen
Memory from Cats – Andrew Lloyd-Webber
El Padrino theme from The Godfather
Summertime – George Gershwin
E si tu n'existait pas – Joe Dassin
Forgotten dreams – Leroy Anderson
Theme from Braveheart
Gonna Fly Now theme from Rocky – Bill Conti
That's What Friends Are For from Jungle Book – Disney
My way – Frank Sinatra
Georgia on my mind – Stuart Gorrell
C'est si bon – Henri Betti
Por una cabeza – Carlos Gardel
The Way We Were – Barbara Streisand
The Rose from The Rose – Amanda McBroom
Oh! Susanna – Stephen Foster
Beautiful Dreamer – Stephen Foster
Come back to Sorrento – Ernesto de Curtis
Swing low, sweet chariot
Abreme la puerta
La vida es un sueno – Arsenio Rodriguez
Tres Palabras – Farres
Eyes on me from Final Fantasy – Nobuo Uematsu
Fragments of memories – Nobuo Uematsu
Titus and Yuna's sky theme from Final Fantasy – Nobuo Uematsu
Balade unison – Peter Martin
Blues unison – Peter Martin
Depths of Winter – Alain Christopherson
Romeo and Juliet Love Theme – Rota
Music of the Night from Phantom of the Opera – Andrew Lloyd Webber
The Greatest Love of All – Whitney Houston
Theme from Ice Castles – Marvin Hamlisch
Moon River – theme from Breakfast at Tiffany's – Henry Mancini
The Inspector Clouseau – from The Pink Panther Strikes Again – Henry Mancini
Charade theme song – Henry Mancini
Black Orpheus
Bethany – Lynn Mason
Viva la vida – Coldplay
Isole – Reverberi Giordano
La Bamba – from Veracruz
If love is blind – Thomas Bateson
Londonderry Air – James Galway
Scarborought Fair – English traditional
Cielito Lindo – Sebastian Yradier
Anchors Aweight (1906)
Csardas – Viitorio Monti
Csardas – Michael McLean
Hevenu Shalom Aleichem – Hebrew traditional
El Gato Montes – Manuel Panella
Espania Cani – Pascual Marquina Narro
The Liberty Bell March – John Philip Sousa
Miss McLeod's Reel – Scotish traditional
Sporting Paddy- St.Ruth's Bush -Irish traditional
Will Ye No Come Back Again – Scotish traditional
The Rocky Road to Dublin -Dublin Streets -Irish traditional
The Mist Covered Mountain -Irish traditional
Guilderoy Red Haired Boy – Celtic traditional
Garry Owen – Merrily Kiss The Quaker – Irish traditional
Irish Washerwoman – Swallowtail Jig – Irish traditional
Scotland the Brave – Scotish traditional
Londonderry Air -English traditional
Amor i espada – Spanish traditional
La Bikina – Ruben Fuentes -Mexican traditional
La Paloma
Greenleeves – English traditional
Can Can – Jacques Offenbach
Black Eyes – Russian traditional
Perfidia – Alberto Dominguez – Spanish traditional
Historia de un Amor – Carlos Almaran – Spanish traditional
Funiculi Funicula – Luigi Denza
Happy Birthday
Maria Elena – Lorenzo Barcelata – Spanish traditional
Hora Staccato – Grigoras Dinicu
Balada – Ciprian Porumbescu
Corazon – Jose Alfredo Jimenez
Hava Nagila – Jewish traditional
Folk Tune and Fiddle Dance – Percy Eastman.Fletcher
Adios Muchachos – Julio Cesar Sanders
Tango del Maurice – Silvio Hein
La Calesita – Mores Mariano
Cafetin de Buenos Aires – Mores Mariano
El Choclo – Angel Gregorio Villoldo
Avant de Mourir – Georges Boulanger
Blues Tango – Leslie Searle
La Cumpasita – Gerardo Matos Rodriguez
Evening Shadows – Leslie Searle
Tango in D – Isaac Albeniz
La Rumba – J. Tim Brynune
Jalousie – Jacob Gade
Blue Tango – Leroy Anderson
I Love The Woman – Ionel Fernic
Tango – Goran Bregovitch
Eine Kleine Nacht Tango – Madis Javari
Por una Cabeza – Carlos Gardel
Siboney – Ernesto Lecuona
Chiquilin de Bachin – Astor Piazzolla
La Vie en Rose – Louguy
San Jose – Josef Traun
Makin'Whoopee – Walter Donaldson
Libertango – Astor Piazzolla
Summertime – George Gershwin
Tico-Tico – Zequinha Abreu
The Typewriter – Leroy Anderson
Moon River – Henry Mancini
Adios Nonino – Astor Piazzolla
If Love be Blind – Thomas Bateson
Misty – Erroll Garner
Forgotten Dreams – Leroy Anderson
Fascinathing Rhythm – George Gershwin
Kurze Streiche – Joachim Reiser
I've Got Rhythm – George Gershwin
Bill Bailey,Won't You Please Come Home! – Hughie Cannon
Isole – Reverberi Giordano
Swing Low, Sweet Chariot
Dixie – Dan Emmett
Beautiful Dreamer – Stephen Foster
Your Feet's Too Big – Fred Fisher
Oblivion – Astor Piazzolla
Harry's Boogie
Ballad – Peter Martin
Take Five – Paul Desmond
Calambre – Astor Piazzolla
Lullaby of Birdland – George Shearing
Embraceable You – George Gershwin
The Man I Love – George Gershwin
Jazz Latino – Farid Zehar
Abreme la puerta
Blues – Peter Martin